KPIC R&D Center suggests
a new industrial paradigm with technology
that makes a better quality of life.
KPIC R&D Center's development of functional high value products
and new materials and technologies allows KPIC
to secure a competitive advantage in core technology
and create unlimited value for the petrochemical industry.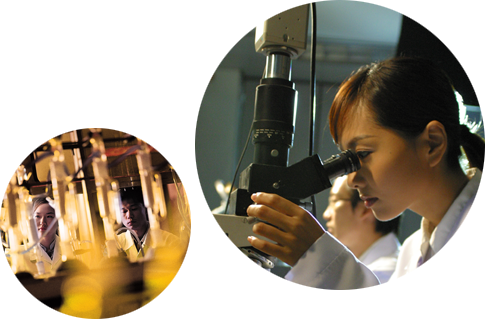 Founded in 1977, KPIC R&D Center has accomplished outstanding achievements through our constant investment and development endeavors for core technologies, and its competitiveness is well acknowledged domestically and overseas through its successful commercialization.
Based on a highly advanced research infrastructure and with skilled researchers, KPIC R&D Center has accomplished 100% self-sufficiency and 100% high activation by developing catalysts, the core technology in the petrochemical industry, and is contributing to improving productivity and enhancing competitiveness in our main businesses by developing new processes and making processes more efficient.
In particular, such products as the only Korean made high purity capacitor film resin, Ultra high molecular weight polyethylene(UHMWPE), the first Korean made VHMWPE resin for LiBS, PP resin for LiBS, Matt resin for film, PP ultra high-pressure pipe resin and PE adhesive resin for steel pipe coating were selected as Korean World-class product thanks to the love of customers worldwide.
KPIC R&D Center has realized the high value-added PE and PP through development of products such as PP resin for melt blown with pellet type ultra high flowability and next generation pipe grades.
With the passion with which KPIC has developed the Korean economy by pioneering the petrochemical industry in Korea, KPIC R&D Center will accomplish our dreams and a rich future.
History and Honors
Mar. 1977

Research and Development Center is established

May. 1985

Information Resources Center is established

Jan. 1990

Research and Development Complex is built

Apr. 1994

KPIC Research Institute is established and is registered at Korea Industrial Technology Association as a member

Mar. 1998

Technology Award, The SAMIL Culture Awards (The SAMIL Culture Foundation)

Nov. 2003

IR52 Chang Young Shil Award (Korea Industrial Technology Association)

Apr. 2004

Technology Award, The Polymer Society of Korea

Dec. 2004

Korean World-class Product Award 2004 (Matt Resin for Film)

Dec. 2005

Korean World-class Product Award 2005 (PP random pipe)

Dec. 2005

Korean World-class Product Award 2005 (Polyolefin based adhesive resin for steal pipe coating)

Dec. 2009

Korean World-class Product Award 2009 (High purity polypropylene for capacitor film)

Dec. 2011

Korean World-class Product Award 2011 (U(V)HMWPE)

Dec. 2013

Korean World-class Product Award 2013 (Polypropylene for Lithium ion Battery Seperater of drying process)

Dec. 2015

Korean World-class Product Award 2015 (UHMWPE)